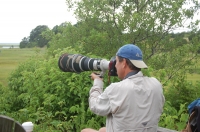 Craig Gibson is a lifelong amateur photographer and has been an active birder for more than 10 years.  His primary interest is capturing action images of birds in flight. Craig takes most of his images with hand-held intermediate and large telephoto lenses in and around Falmouth, MA and the surrounding areas.
He is a member of the Cape Cod Bird Club and a contributing photographer for Falmouth's 300 Committee Land Trust, Salt Pond Areas Bird Sanctuaries, Oyster Pond Environmental Trust, as well as the Buzzards Bay Coaltion, Trustees of the Reservations, and The MassAudubon Society.  Craig has also been very involved with the Quissett Harbor Preservation Trust. His photos appear weekly in the The Falmouth Enterprise newspaper and in other print and online publications for local conservation groups.
Craig is recognized as a passionate nature photographer who explores the bird world through a wide range of flight and perched images. In addition to local bird photography, he has also photographed birds along the coast of Southwest Ireland, touring Western Australia, and while on expedition in the Falkland Islands, South Georgia, and the Antarctica Peninsula.